Power-up to your full potential! Let us guide you through the process. At Options Naturopathic, we collaborate with you each step of the way on a journey to wholistic health and wellness. We believe in the power of personal stories and education, so that's where we begin. We help you develop a new understanding of your life experiences, by looking at the facilitators of, and barriers to, your health and wellness, as well as your desire and motivation for change. 
With us, you are always in control of your healthcare. We present options and you choose where you want to place your focus. The reason is simple. We have learned from years of experience with patients that big personal changes come from a series of small, incremental changes in thinking and behavior over time. 
We keep our conversations and collaborations with you focused on wholistic health, which not only includes your physical health but also your mental and emotional health as well. For those interested in the role that consciousness and spirituality play in health and wellness, we partner with you around these topics as well.
We go to great pains to confirm you are paired with the provider that will maximize your experience and ensure your highest healing. We ask that you review each provider's profile before requesting an initial consultation. Each doctor has a unique personality and philosophy that may resonate with you more than another. By reviewing their profiles, you can make an informed choice and select the provider that best fits your health goals.
CHOOSING YOUR CONSULTATION TYPE
Once you select the provider you would like to work with, your next step is to decide which consultation type is right for you.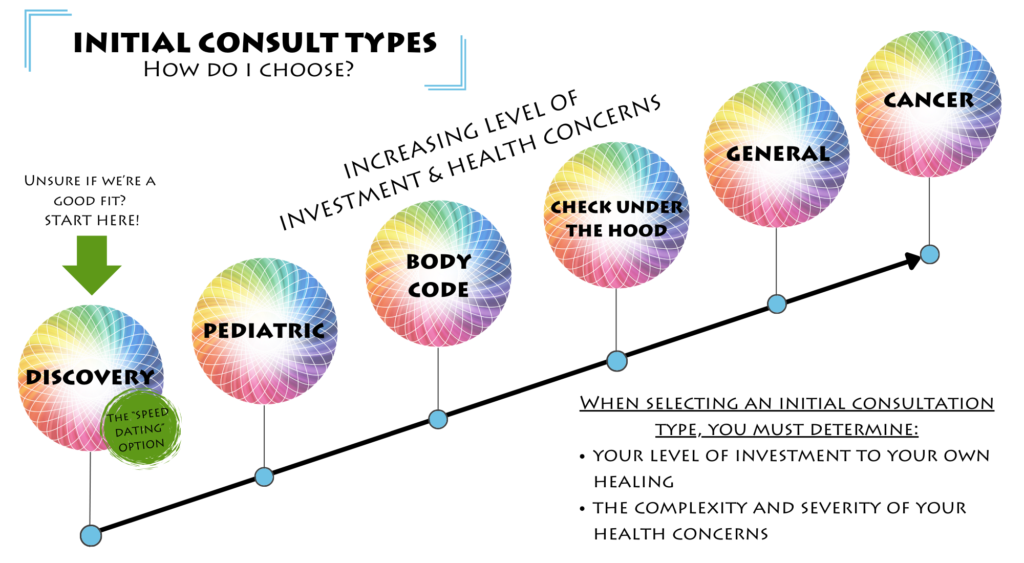 Discover the key underlying drivers of your symptoms and launch into the proven processes to resolve your issues-with less commitment. Read more
PEDIATRIC WELLNESS CONSULT
To establish care for infants and children. Also for daycare, school & sports wellness checks.
BODY CODE (EMOTION CODE) CONSULT
For those seeking to understand emotions held in the body and their relationship to overall health. Read more
"CHECK UNDER THE HOOD" CONSULT
For those who want our metabolic-terrain-centric insight on their bloodwork or want bloodwork ordered prior to a GENERAL INITIAL consult. Also to review speciality labs such as toxicant, hormone, or epigenetic testing for existing patients. Read more
Our most POPULAR consult, for those ready to take the deep dive into their complex medical histories and establish ongoing care with us. 
ONCOLOGY ONBOARDING CONSULTS
Four separate consultations take the necessary deep dive into YOU in order to explore how to heal, instead of facing a life-threatening death sentence. Learn more
ARE YOU READY
TO
FEEL BETTER!?
OUR MISSION: To shift experiences of illness into Self-Awareness, Flow, Purpose, and ultimately, to support the evolution of consciousness.
Guidance and Collaboration
Our process supports personal evolution through brief and long-term interventions and collaborations that include these core components. We consistently
Encourage you to embrace, honor, and tell your personal story

Explore your feelings, thoughts, and self-perceptions about your health and mental health condition(s)

Review and evaluate your blood tests and other test results

Determine your goals for your health and wellness

Plan interventions and services with our Roadmap to Health document

Offer services, supplements, and other products to support your journey

Track, review, and discuss your progress

Review your goals, interventions, and daily practices and revise your Roadmap to Health
Enter your e-mail address to receive regular updates, as well as news on upcoming events and special offers.
Options Naturopathic Shop
Visit our apothecary in-person or shop online
Find the purest physician-grade supplements at the most competitive prices. AfterPay, Subscription Options, Earn Rewards Points & more!